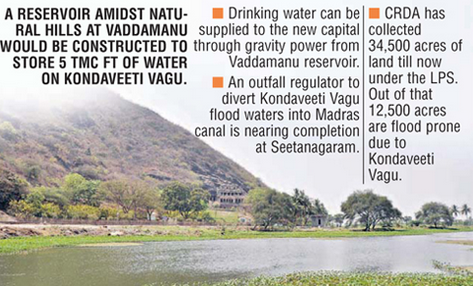 Success in life is all about turning a bane into a boon, a curse into a purse and a crisis into an opportunity. Kondaveeti vaagu was a curse in times of floods. But the excess water could be of great use otherwise if well laid out plans can be executed. This is what AP governemnet had thought of and has now chalked out an action plan.
In a major relief to thousands of people in the upcoming capital city of Amaravati, the state government  decided to control flash floods in the notorious Kondaveeti Vagu by pumping out about 5,000 cusecs of water from the hilly stream into Prakasam barrage in Vijayawada.
Kondaveeti Vagu causes heavy damage to crops every year during monsoon, thanks to flash floods and scores of villages, including Mangalagiri, Tadepalli, Tullur and other mandals in Guntur, get affected. The state government had turned its attention to Kondaveeti Vagu after the area was selected for the state capital.
Though the government proposed to tame the stream two years ago, it could not take up the Herculean task of diverting the flood waters. With the work on Amaravati gaining momentum, the government sanctioned Rs 237.28 crore to solve the flood problem. Though the stream joins river Krishna at the Prakasam barrage, it fails to empty the flood water as both the Kondaveeti Vagu and Krishna get flash floods around the same time. The impounding of water at the barrage also prevents the stream from fully emptying itself into the river.
See the news video of Kondaveeti vaagu plans HERE
Recently , the state government constituted an expert panel to study the problem and suggest a permanent solution. High power pumps will be installed and during the flood season, about 5,000 cusecs of water will be pumped into the river. The chief engineer, Krishna Delta System, Vijayawada, has been directed to call for tenders within a fortnight and take up the project. The pumps will be installed at the outfall sluice at Undavalli village. They will be operational for about 60 days during the monsoon.
Giving administrative sanction, the government directed the irrigation department to complete the project at the earliest in view of the ensuing flood season. The stream receives copious inflows during September-October. Often, it gets flash floods during August too.
The government is likely to take up the project after the Krishna Pushkaram scheduled for August 12. Kondaveeti Vagu is one of the streams that causes heavy loss to property during south-west monsoon in Guntur. Ironically ,a major portion of the catchment is encroached upon.
An earlier Eenadu report below